Guided Tours of 2,000 year old man-made caverns
The caves are open every day at 10:00am until Wed 31st October 2019.
Today's Tours Start at 10:30, 11:30, 12:30, 13:30, 14:30 and 15:30.
N.B. In exceptional circumstances Tour times may vary.
Adults £9.00
Child 5 to 16 years and over 65 years £7.00. 
Family 2 adults + 2 Children £28.80.
Under 5's FREE.
Our guides will take you on an hour long tour through the vast man-made complex of underground caverns with their mighty halls of vaulted roofs and pillars of Beer Stone which have been likened to a vast underground cathedral.
See for yourself the methods used to quarry and deliver the huge blocks of stone, the working conditions, the hardships endured and the dangers faced daily by the work-force using only the light from a flickering tallow candle and you may never again see a famous building with the same eyes.
The caves are cool so please bring warm clothing and it's best to arrive at least 10 mins before the tours start and no need to book unless you are a large party.
Onsite Car Parking is Free
The caves are cool please wear something warm
Please do NOT bring your own torch - the caves are well lit
Regrettably it is not suitable for wheelchairs
Only assistance dogs are permitted underground.
Light refreshments and souvenirs available.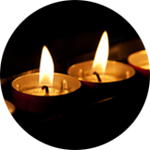 Fri July 19th – Candlelit Evening Tours. As last years candlelit tours were a great success we will be running them again sometime on 19th July. An ideal opportunity to soak up the atmosphere of the quarrymen's working conditions rather than a full information tour. Tours will be at 6:30pm and 7:00pm costing £9 per person by booking only. Not suitable for under 11yrs. Please email candletour@beerquarrycaves.co.uk with your name and contact number, Karen will then call you for card payment.
After that on Wed 31st July "Folk in the Caves". See Events for more details.
Reviews from the Visitors Book
This is an inspirational and moving place, inspiring awe at the extraordinary skill and industry of man throughout 2,000 years and moving because of its testament to the injustices of a system that enabled such labour to be valued so lightly – a must see destination and many congratulations on the best guided tour I have ever had.
Tim Smit – Director , Eden Project, Bodelva, Cornwall. 
Fantastic tour with wonderful local history.
Pitched to both adults and children.
Hampshire – 21/06/2019.
Time Capsule with incredible stories and History.
Great tribute to the past!

Essex – 08/05/2019.
Amazing tour.
History preserved underground.

Seaton – 18/04/2019.
A fantastic slice into history
Very interesting and also very moving.

London – 24/10/2018. 
Three visits and just as fascinating as the first visit.
Learn something new every time so worth more visits. Thanks.

Sidmouth – 29/09/2018. 
Wow! Nothing like this at home. The guide was brilliant and made it so real.
Thank You.

Aukland New Zealand – 15/08/2018. 
What an incredible place, unique with so much history.

Taunton – 13/07/2018. 
A place not to be missed – must be seen to be believed. Many thanks.

Essex – 18/06/2018. 
Fantastic, reality tour, so much interesting information told with humour.

Colchester  – 18/05/2018.